I have built many planes but never a Super Cub so I thought it was about time I did!
True scale, 40" Span, nothing special except it should be very light, built in 2 & 3mm Depron.
The fuselage formers.
The side panels are in two parts to create the fuselage 'crease' down each side.
The micro 3.7g elevator servo is mounted under the tailplane. It will be 'bank and yank' so no rudder.
The small 2805 1500kV motor will drive a scale diameter 7" prop on a 2s LiPo.
The motor will be fixed to a small circular ply bulkhead that is mounted inside a Depron tube that itself spans the first and second formers.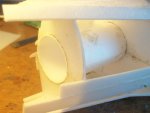 This arrangement provides a light but rigid fixing that spreads the load widely through the fuselage.
The motor mounted in the tube. The bell runs
very
close to the tube!
A Depron nose block complete the motor installation.
The fuselage is the most complicated part of the structure by comparison the wings are simple!