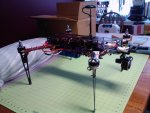 Sometimes I think I bit off more than I can chew, but it's coming together nicely. I have about 10 hours into the build so far. Everything tests great! But I can't get it in the air until my order comes in for props. (
Hobbyking
is correcting some issues with my order that were either wrong or missing.) So far it's been very fun putting this together. I hope I can fly soon!
Specifications:
Frame:
HobbyKing Super-H 600 QuadCopter (KIT)
Landing Legs:
Extended Landing Skid Set for SK450 Quadcopter Frame
Motors:
4x Quanum MT Series 3510 630KV
Flight Controller:
HKPilot Mega 2.7 Master Set
Batteries:
2x Turnigy 5000mAh 4S 25C Lipo Pack
Power Distribution:
Quanum Power Distribution Board and Dual UBEC In One
Speed Controllers:
4x Afro ESC 30Amp Multi-rotor Motor Speed Controller
Camera Gimbal:
Quanum Q-2D Brushless GoPro 3 Gimbal
FPV Camera/Video Recorder:
Turnigy HD ActionCam 1080P Full HD Video Camera w/Waterproof Case
FPV Transmitter:
SkyZone TS5823 5.8GHz 32CH A/V 200mW Mini FPV Transmitter
FPV Receiver:
Fieldview 777RX32 5.8GHz FPV Monitor
All up weight is running about 2600g. According to eCalc, I should have about 15 minutes of flight time. She's heavy, but solid.
Still waiting for:
Props which are yet to be determined, but going with either: 12x4.5 -or- 12x3.8. eCalc says it's basically a wash. 12" props DO fit nicely!
Turnigy HD ActionCam FPV Live Video Out A/V Cable
Kingduino APM External LED Module
Last edited: