Hi Pilots and RC enthusiasts!
I am still new to RC and started this journey about one year ago.
Firstly I invested in radio setup (TGY 9X), spare parts and a Bixler ARF.
It was fun to see that I was actually able to become a RC pilot!
A pilot in real, not only during simulations for which I sacrificed lots of time.
As my experience was growing I wanted to build something from scratch.
I tried my best with scratch build delta wing. It was really well looking but it didn't wanted to fly.
CG was badly balanced and the motor wasn't producing enough thrust.
That's why I started to search for easy to fly plane for a beginners.
I've found
Mikey's RC
forum on which there is a Sport Trainer plane available.
I'd downloaded it, printed and started with my build.
It took me 3 evenings to put all the things together. On picture below You can see assembled plane.
What is interesting in this construction is that the wing is bent a bit (to provide dihedral), and difference in path length for an air is made simple with use of a tape which covers a foam strap glued on top of the wing.
Most of the construction is made of Depron with help of some wooden BBQ skewers and popsicle sticks for strengthening plane's body.
Additionally I made both: main and tail wings more rigid by gluing a carbon stripe on them.
From the beginning I wanted to have a landing gear so I prepared one with use of a 2mm steel rod.
I glued it to popsicle sticks with hot glue.
After I went through all the plans and my work finished I balanced the plane, charged my LiPo and went for a test flight.
I need to admit that I was really surprised how easy it is to fly this thing. Plane doesn't need lot of runway to start, is really maneuverable and can fly slow what is really important, especially for a beginners like me
I noticed that it is needed for me to set some dual rates/expos in the future so the flight would be more steady.
The setup I went with for a test flight was:
- AX2306N 1300kV brushless motor with 8x4 propeller,
- Turnigy 2S 1300mAH 20C LiPo,
- Turnigy AE-20A ESC,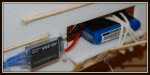 - 3xTurnigy TG9E 9 gram servos,
- Hobby King 3 channel GT-2 2,4GHz receiver.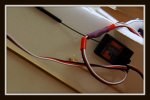 I am happy that everything worked and finally I was able to fly
Mikey's plans are prepared well and I had no problems with their usage.
For those ones who just start with RC hobby I recommend this plane to build. It's cheap, easy to build and fly!
If anybody built also the same plane please share Your thoughts, ideas and pictures.
I am also interested in everybody else comments, what do You think I did wrong and what could be done better.
regards