Hey Guys,
this might be my first ever posting in a forum so please be forgiving if some stuff is not classical forumtalk. Why I am posting is because I started my first scratchbuild. Well to be correct, I scratchbuilt a few planes from the FT series already (FT 3D, FT Versawing Blunt Nose, FT Racer) but this time I wanted to do the whole constructionprocess as well. But doing it on the computer oder drawboard would not be comforting for me so I just made a few sketches of what I wanted to achieve and started building right away.
What I came up with so far is most of the fuselage, the wing (very rudimentary yet) and parts of the stabilizers (even rudimentarier then the wing). Wingspan will be around 140 cm, length so far is 80something cm. All the sizes I calculated from a scheme sheet where it said how long the fuselage has to be for a glider with that and this wingspan, stab areas and so on, very helpful.
What I would love this to become is a slightly smaller but still epic radian pro kind of glider. In the beginning only aileron, no flaps, but would love to add them later. First I thought it would be nice to mach the wings detachable, but I think my scratchbuilders knowledge is not there yet
I will try to fly this thing of a NTM Motor with 1200 kv and 250W and a 9x5 folding Prop. Power should be delivered from a 1500 mah 3 cell. By now my feeling is that it will be also able to carry a 2200 3 cell (of which I own a few).
My plan is that when the plane is done and flying well I want to finalize the plans for it (only using foamboard) und upload them here. How do you guys usually make your plans? What software are you using? I was planning on using adobe Illustrator since I have that on my work laptop.
Here now a few pictures of the status quo: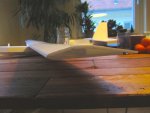 Ok folks, looking forward to a lot of interaction with people who share the passion for building, flying and crashing planes
Also, them bananas in the pictures are sooooooo delicious...