MultiRC sent me a
150mm Shenanigans
quad frame to review. (Rest of the kit I purchased)
This is a new direction for me. Tiny and I have to say I do like the use of the TPU.
Flexible 3D printed parts are very neat. Not only do they absorb vibrations on the arms but they also help with impact shock in the event of a crash.
The Shenanigans is a tough little frame. So far I've only cracked 1 prop!
Gear:
MRC Naze32 Flight Controller w/ Blackbox
Diatone Power Hub PDB
DYS XM10A ESCs
DYS BX1306 4000kv Motors
FrSky XSR 2.4 Ghz ACCST Receiver
Diatone 600TVL Mini FPV Camera w/ Mount
HawkEye 200mW 32CH RaceBand 5.8 GHz Transmitter
TPU Antenna Mounts
TPU Battery Landing Skids
Battery Straps
XT30 Power Connectors for 30A Continuous Applications
Batteries:
(XT-30)800mAh 3s 20c Lipo Battery
Turnigy Graphene 800mAh 3S 45C Lipo Pack w/XT60
Turnigy 800mAh 3S 40C Lipo Pack
Turnigy nano-tech 850mAh 3S 45~90C Lipo Pack5
Build Experience:
Well who would have thought I would have like my gear naked. That's right I no longer want my ESCs or motors wired up with connectors or heat shrink. Waste of time
.
The build up on the 150mm frame is not too bad with the most time consuming part actually being the time you need to strip down the ESCs to remove the long wires.
The rest is pretty basic and Mark from MultiRC even has an online video with some tips and tricks when dealing with the smaller frame.
Build Photos: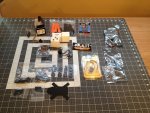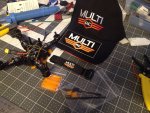 I'm still tuning and playing with the 150 but I have to say after my most recent flight at an open field I like this little thing. You almost don't want to land.
I do have to try and shoot some video again. On my last flight the camera cut out so I'll try that again.
Stay Tuned!
Last edited: