Hello Peeps,
So I got into miniquads about a year ago and started with a QAV 250, you can read about that here:
http://forum.flitetest.com/showthread.php?15300-Build-Log-QAV250-CF-edition
For those TLRD the QAV is fantastic, seriously, however I have broken 2 baseplates already at the arms, so you have to
Rebuild the entire thing
Buy a new base plate for around 60$
I have always been intrigued by the X-hover MXP230 since it was touted as being extremely strong and since Aliens aren't ready quite yet I went with the MXP 230-E as it's already quite a lot heavier than the QAV250.
I also went with the kiss 18amp ESCs and the SPRacing board.
Parts:
X-hover MXP 230-E
Kiss 18 amp ESC
Lumenier FX2206 2350KV
SPRacing
Lumenier 250mW Raceband vtx
700TVL superhad cam board cam
Micro-minimosd
This is how the MXP arrives
4 shiny new Kisses, these things are TINY!
ESC next to motor
Mounted on the PDB board
5 V polulo Reg for powering the board
Mounted with Top Plate
There is a LOT of space between the bottom of the PDB and the top plate
Board camera mounted in the Lumenier swivel case, but it's the 700TVL so the back doesn't fit anymore, I simply used plasti-dip (liquid electrical tape to close it up, the case is dam heavy as it is so it's most probably a good thing.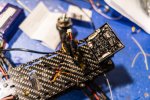 Micro-minimosd is tiny so it can be nicely added to the back of the camera.
The finished product.
Camera and OSD
Nice and clean
Front
Likes:
So damn strong.
Concerns:
Arms are held directly onto the PDB which I would imagine is a weak point.
Dislikes:
Heavy
Ok so KISS esc, I don't know what to say, they are a completely different beast. No amount of BLHeli will change that, the motors are so quiet and responsive but they are kind of fiddly to work with, not impossible but I treated them with respect.
It flew so well with Cleanflight 1.10 RC-2 and PID2, I enjoyed it very much, but it was windy and cold so I decided to pack up.
Everything very rosy
...
..
.
I landed and the quad burst into flames.
Seriously.