I was inspired by David "dkj4linux" Johnson to build my own MPCNC with his needle cutter.
http://forum.flitetest.com/showthread.php?24251-Cutting-foam-sheets-with-a-needle
! I ordered the Mostly Printed CNC Parts Bundle and the Printed Parts - 23.5mm Bundle since I do not have a 3D printer, on the evening of Star Wars Day, May 4th, Wednesday.
http://www.vicious1.com/product-category/bundles/
My bundles/kit was quickly shipped, I received it on Saturday May 7th. Awesome customer service!
On Saturday I only examined and laid out all the parts.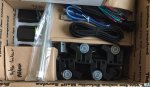 Last edited: