Fly yes... land no.
Admin
Recently my son kept stealing my Fat Shark goggles.
I'd been using the
Quanum DIY FPV Goggle Set with Monitor (KIT)
as my GS monitor but decided I better build them up.
Only one problem. With the RX from the ground station it was a very bulky over weight setup.
By chance I spotted a nice small alternative from Banggood.com
The
Eachine ER32 5.8G 32CH Wireless AV Mini Receiver
I order it along with a
5.8G FPV AV 4 Leaf RX Receiver Antenna for Mini Quadcopter QAV250 (L Type RP-SMA Male)
back in December and recently combine everything to make a nice compact backup FPV goggle set.
I even went as far are removing the AV/Power wires from the display and running them directly from the FPV receiver.
Power is supplied by a 2S 500 but I can also use 3S if desired.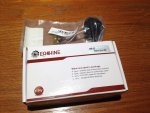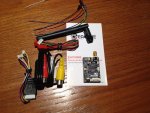 I'm rather happy with the setup. Currently I'm looking into way to move the display away from the viewers face so that focus lens does not need to be used.
But now I can fly with my goggles and my son can view via the Quanum.
Last edited: