My mother and mother-in-law gave an airplane themed baby shower for my wife and I. We are expecting our first, a son, the end of June. My mother-in-law asked if I could make an appearance by flying in one of my RC aircraft. I said sure! This is what I came up with. It was a big hit!
It was really easy to make. I printed out a cartoon of a stork carrying a baby. I then cut it out on dollar tree foam board since I have tons of it laying around. By gluing the print out (and its mirror image) onto the foam, I was ready to go!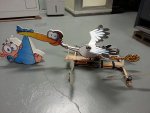 I made the quadcopter a year and a half ago. It really isn't a very good one, but served the purpose well.
All in all this was a great little project and a big hit at the baby shower... Our little boy is in for a fun life!