Some guy in the desert
Mentor
I've been toying with getting a co2 laser for awhile, I love the little 3w laser I have on my MPCNC...but cutting even 1/8" ply with it is beyond tedious the number of passes it takes. I've tried both lens options and air assist but it's still just too slow for my preference and results in way too much burn on the edges. It's great for engraving and cutting paper and craft foam but not great on wood. Plus it's an open machine and I only have one pair of good laser safety glasses so I have to keep my shop locked while using it. Not idea.
But the "K40" machines are pretty limited and have been too expensive for me to justify. Then I saw
@nebraskatrevor
's post:
https://forum.flitetest.com/index.php?threads/home-built-co2-laser-for-dtfb-lots-of-pics.55554/
with what he did to his and got curious enough to do some more research.
My research pretty much said the community around these machines is no longer recommending buying a k40 - they're saying the new 50w machines are much better. And it appears they are. They have nicer controllers, more power, larger cutting area, come with air assist....but they're also a lot more expensive (~$1,500) and shipping is an issue because they're BIG machines. So you're looking at freight shipping and an extra $150 to get liftgate service for residential delivery. Ugh.
K40's meanwhile have come back down in price and are easy to find in the $350 price range. And when I came across a one day 15% off anything on ebay coupon that brought a K40 down to $300 and I couldn't say no (incidentally that's the same price point that made me finally buy a 3d printer a few years ago...history repeats?)
So - I placed the order and it arrived yesterday.
It's smaller than the 50w machines...but still...quite large! Part of the reason I decided to dig in on this is I wanted a "desktop" project I could work on in my dining room. Due to a
recent life change
I'm not able to spend much time out in my shop anymore and am looking for projects I can do in the house - preferably with my daughter. She's expressed interest in lasers and this seemed small enough to work on inside...so....
The packaging was not very impressive but worked. Honestly I'm amazed this thing could make it here from China packed like this, but it did! Well...mostly...more on that in a moment.
Inside the machine were more goodies. The box for the water pump actually had more stuff packed into it as well.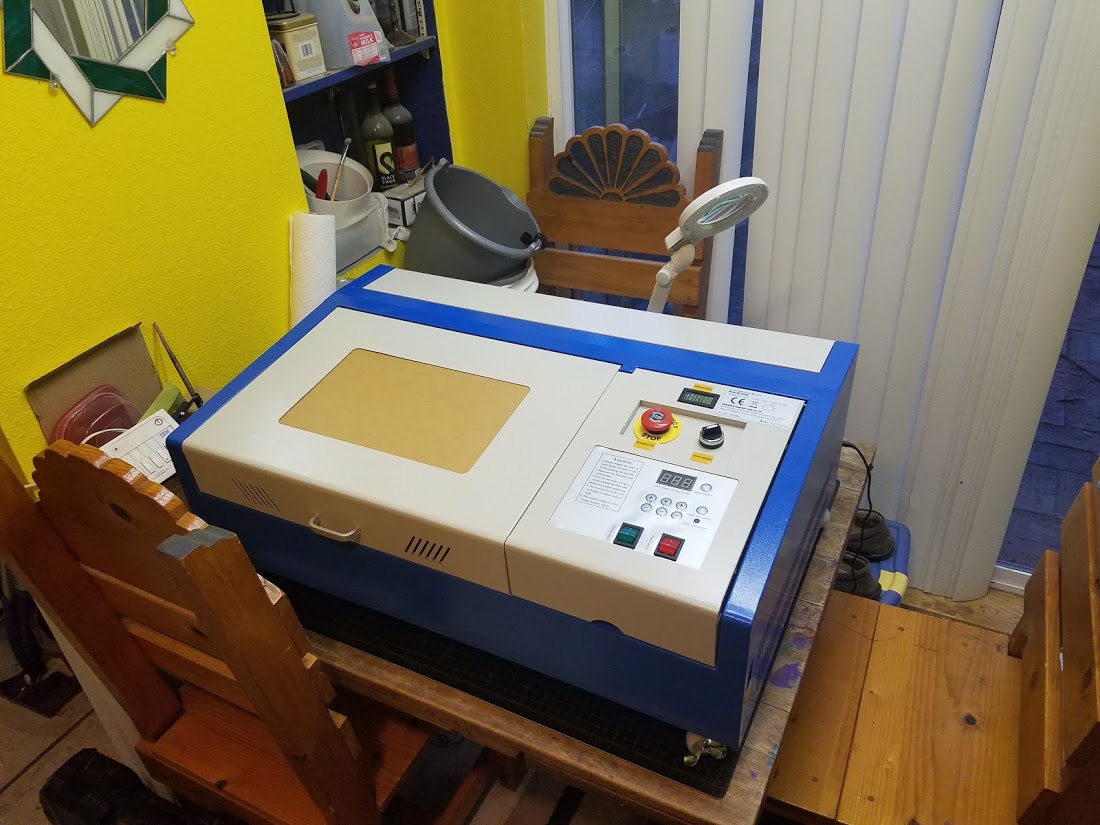 I had measured my table before ordering...but still it's bigger than I expected. Those wheels on the bottom are listed by the seller as an "upgrade" but honestly for me they're a liability and make it even taller. I'll be replacing them with some feet...assuming I keep the factory case.
The control panel is also listed as an "upgrade" but...I'd rather have the simple knob and analog gauge than this travesty:
And as I said there is some minor shipping damage:
That's the worst of the shipping damage but there is some on the laser side as well:
I'm not going to make a stink about that though - it's just cosmetic.
So it's here! And so are a few upgrades I ordered for it since my research indicated that the stock mirrors and lens are pretty worthless:
Hopefully I bought the right size....we'll see. I also ordered an air assist nozzle...I could 3d print one but it was only $20 for an aluminum one....then I found out the machine came with one:
But more on that later. I want to do a thorough review of what came with the machine, what "upgrades" this one included and my opinion on all of it. Then I'll get into my plans to upgrade it properly
That will have to wait for later though, gotta focus on some actual work right now