For the past 3 years I've been using a folding table as my "bench".
That is about to change.
There was nothing really wrong with the folding table I just wanted something taller to allow me to stand while I work and also something to use for my video shoots.
For the last couple months I've been using a dividing wall in the basement to shoot my Friday Flying Update videos but it poses a few lighting challenges. So this new bench will feature casters so I can roll it out into the centre of my work area and light it properly.
Tuesday evening I picked up the 60"x25.5" Bamboo counter top from Lowes. Boy that sucker is heavy.
While the price was not super it is good material and it should in theory out last me
This evening I'll be going out to pick up the remaining supplies.
2x4's, casters and screws.
I'm not sure if I'll do 1 or 2 lower shelves yet but the base will follow this example.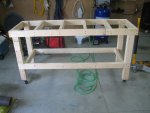 http://n999za.com/2009/08/30/eaa-workbench-completed/
http://www.eaa1000.av.org/technicl/worktabl/tablefig.htm
I expect my bench to be at kitchen counter height.
Bamboo Countertop
from Lowes
Medium Duty Swivel Caster
from Home Depot
Medium Duty Swivel Caster With Brake
from Home Depot
Last edited: