I stumbled across this plane a couple weeks ago in a
video
by
schraut5
, but didn't realize what it was. It's been popping up in my head since for some reason, and I don't think I'll be satisfied until I build one.
After some searching I finally figured out it was a
MikeysRC
YC-14
. Once I found the website with the plans in
PDF
, I uncontrollably hit print and now this is on my living room table... I guess I never knew I had a soft spot for
T tail
cargo planes?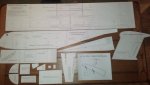 Last edited: