So I was asked after purchasing the EFlite BNF Hawker Hurricaine 25e from Atlanta for the unbelievable price of $139.00 to do a quick build thread.
This plane came like all of the EFlite, Parkzone, and the rest of Horizon Hobby's stuff packed well, no issues whatsoever.
Here are the contents of the box:
The first thing I always do is remove the prop.
Then proceeded with the main landing gears.
Install cover and screws on both wings.
Check and pre-fit carbon spar for the wings.
Mix the 30 min 2 part epoxy.
Put a very thin coat of the epoxy on one side of the spar and place in wing.
Slide the 2 wing halves together.
Forgot to take pics of the following as I was into building and not photo taking, sorry!!!
Epoxy the edges of each wing with a thin coat on each side, then place the forward wing dowel plate. Attach with screws provided. Place the 2 wing bolt plates after applying thin coating of epoxy on these as well.
Epoxy the 2 air scoops and secure to the wing. Attach wing with supplied screws to the fuselage. Let dry canopy side down for 30 minutes for epoxy to dry. (Make sure you did not glue the servo wires in-between the wing halves like I almost did!)
Pre-fit the horizontal stabilizer and 30 mix epoxy the carbon spar and the stabilizer tube. Press fit the horizontal stab in the plane until it fits properly. Let the epoxy dry.
Locate the 2 linkages for the flaps.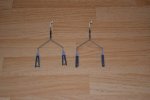 Bind your radio to the receiver. Once bound, be sure that the flap servo arms are pointing to the rear of the wing. remove battery, attach the servo linkage to the servo arms, then to the control horn.
(Sorry out of focus, but you get the idea.)
Test flap control and adjust as necessary. Attach the elevator control rod to the elevator control horn. Check all control surfaces.
Attach prop and spinner, and get ready for some WWII Aerial flight!!!
I hope this wasn't too boring!!!