G'day from Australia!
I've got an article in the waiting on the FT main site and you can see the full build on my own site at
www.red20rc.org
but I just wanted to share a quick image of my latest project...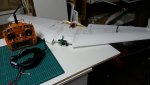 It's a bit of a hybrid, taking the basic concept of the Versa Wing, extending the wings a little and then adding a recessed bay in the center like a Zephyr. All made from foam board of course!
Gear is OrangeRX 2.4ghz for the radio and FatShark AttitudeSD 5.8ghz/GoPro Hero3 for the vision. The power comes from a Turnigy NanoTech 2200 3-cell with a Turnigy 28mm inrunner on a 9x4 prop.
The only thing that will probably change before I put the goggles on for the first time are the FPV antennae - these will be replaced with circular tuned types (but they are still in the post!).
Hopefully I'll be able to get some video up soon.
Cheers,
Mike