Let me start with this, I had a TON of fun building the FT Explorer. It is an amazing lazy-day flyer with the glider wing, and a super thrilling, stunt machine with the sport wing. I had a crash in some super heavy winds and broke the tail boom. I always loved the look of a SkyHunter, but did't have enough damage on the Explorer to warrant a new machine. Plus, Josh and Josh have inspired me to really want to design my own, so here I went.
Below is the maiden flight of the original version. It was over 20MPH gusts, and thing thing was rock solid.
This video is with the sport wings w/ FPV. My friend calls it "the salad". Because you toss the plane.
I added 2 lightweight wooden dowels under each wing and hot glued them in place.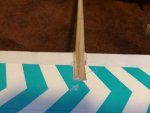 The rudder and elevator was glued on the ends of each tail boom.
The length of the trailing edge to the tail is 14" as of now.
Using the same CG as original.
Both servos are simply glued on the rear.
The prop is clear in the back and can take off from the ground.
It flies, in my opinion, just as solid as the original design. Tail is much tougher this way and the ground take-offs are easier.
Pan and tilt coming soon.
Maybe flaps?
Dual Rudder?
Landing Gear?
Lights!
Last edited: