Ok, so I have been having the urge to build a Hurricane since April and I finally got arround to it.
Presenting: The JTDesigns Hurricane
(sorry about the poor photos the regular camera I use is out of action so the little digital camera is doing the work)
Anyway I started this build out by printing up a scale plan view of the Hurricane.
After that I started measuring all the important aspects of the fuselage, I then cut out a boxy FT style fuse and began adding formers/cardstock to the top.
Then I took a break from the fuse and started on the wings, I didnt take any photos of this part but I cut out a scale wing, bent it to a shape resembling a hybrid of the master series and regular FT wing and gave it dihedral at the proper point. I then repeated this process but for the opposite wing.
With that out of the way I cut a slot in the bottom of the fuselage and slid the wing in, then I designed a skewer/rubber band system so the wing could be removable.
I also added a Master series powerpod mount in the nose, it fits (barely) and makes it so all electronics but the servos are removable. With all this work completed i took it outside for the chuck test, and it passed perfectly, it dies have a slight inclination right but a little trim should help. I am planning to fly this on a B-C pack with a 1500 3S. Below is a comparison to the FT Mustang.
And here is a better photo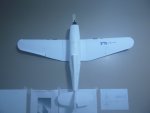 I am hoping to maiden this next week, if all is successful I will construct a beta and then finalize digital plans (so far I have done everything on paper). This has been a ton of fun to build and hopefully this will be my first flyable design.