Here is my attempt to make a biplane out of the Flite Test Mini-Scout. The wing span is barely over 24" and 5 31/32" wide. I stretched the fuselage a little. I also changed and enlarged the tail feathers a little bit. The bottom wing has 1 43/64" of dihedral. The top wing has no dihedral, but is swept 7/8". I lowered the location where the bottom wing goes through the fuselage. The top wing is 4 5/64" above the bottom wing at the wing roots. Glide testing and flying show that the correct the CG is at the 1 7/8" mark behind the leading edge of the top wing.
The Biplane flew great at Flite Fest 2015 with a A2204-14 1400KV Brushless Motor and 2S 800mah battery, it even landed right on the runway like it was supposed to do. I need to lengthen the nose a little more since I had to add some weight to the nose of it. At Flite Fest the only "weights" I had with me was pocket change. So I taped the change to the nose and off it flew.
All in all I am very pleased with it. I have updated my plans with the adjusted CG and I also extended the nose section to eliminate the need for adding nose weight. I did not redraw the landing gear. I made the landing gear just as Josh explained in the Scout build video except I kicked them toward the nose about an inch to inch in a half. This coming winter I will build another biplane from the updated Beta plans. If anyone tries the Beta plans let me know if you find any errors or have any questions.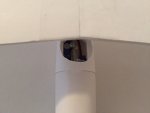 View attachment Mini Scout Bipe II Beta.pdf
Last edited: