Here is the documentation of my approximately 14-month build of the P-38 Lightning. There were some embarrassingly long breaks and dry spells in between the building, as it was difficult at times to stay motivated to build when I just wanted to grab the transmitter and fly, or relax or do anything else. I finished the build on January 4th of 2017, and at first I felt really relieved because I wouldn't have to spend so much time on it anymore....but at the same time, I miss having a "big" project on the table already. Which is why I am starting another project (more on that later). Here's a few pictures of the completed Lightning to start off (many more in the updated second post....once I update it). Below, in italics, is my original post and the normal text is my comments about it today.
"I'm glad to say that I will be joining in the 2016 edition of the FT Forums Scale Build Off. Last year I entered my 62" scratchbuild BF109 E-3, which can be found here: http://forum.flitetest.com/showthread.php?16862-Scale-Build-Off-Scratchbuilt-62-quot-BF109-E-3

This year I have decided to build a 96" (8 ft) wingspan P-38L Lightning for the same event that I built the BF109 for last year, which is the NEF event in Akron Ohio (March 18-20, 2016). Since it is an indoor event, I will be building light for the most part; however, this year I am planning to incorporate movable/functional flaps instead of fixed flaps and will (if time allows) be building two sets of wings, one set with a full airfoil and the other set undercambered for slow indoor flying."
Obviously, I did not finish the Lightning in time for the 2016 NEF event (although it was flyable, and I did fly it twice there) but it is done for this year's (2017) NEF. I did make functional fowler flaps on this bird instead of the fixed flaps I used on my Messerschmitt. I did not end up building two sets of wings and settled for only undercambered wings for a few reasons, mainly because the rest of the airframe and power system would not be suited well for higher speeds of flying (relative term, as it flies fairly slow to begin with).
"Specifications:

Wingspan: 96"
Length: 70"
Est. weight: ~3 lbs
Wing area: 5.8 sq ft.

I plan to paint the plane in the colors of Thomas McGuire, the second-highest scoring American ace with 38 kills (right behind Richard Bong with 40 kills, who also flew a P-38). He died during a dogfight because he forgot to drop his drop tanks and stalled at low altitude.

Here are some pictures of the McGuire's scheme of his P-38 nicknamed "Pudgy V" after his wife:"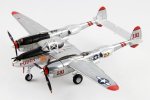 "So far, I have only the former plans cut out, but the other plans pieces have not been put together yet and no foam has been cut. Due to my schedule with school, I will not be able to work on it very often during weekdays and instead will build on weekends and holiday breaks. I will regularly update this thread when I make progress and will post build pictures as I go along.


Note: Build pics/flying videos will be added in the second post as I make progress."
I think I need to work on that "regularly update" part.
I will compile a bunch of build pics into the second post soon. I've been waiting for the weather to cooperate (mainly wind) so I can take pictures of it outside, but that hasn't happened yet.
Last edited: