Some of you guys have great looking builds. Lets see your FT Storch!
Post a beauty shot of your FT Storch build even if you have posted one before. It's nice to have them all in one place.
Maybe someone will make a calendar...hmmmmm. I just might do that!
Finally added some pics from my build. Waiting on a battery for the maiden. Hope I don't hose it up to much before Flite Fest!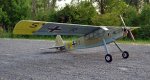 Last edited: