This build started as an effort to make a companion for my friend's Spitfire. I found that user Ultramicrobe already made modifications of FT Spitfire plans that make it into Messerschmitt Bf-109 (
article on FliteTest
).
Since I'm a novice scratch-builder, I applied Ultramicrobe's modifications directly onto original FT Spitfire plans, so I would have less to worry about when cutting and building the plane. I think these plans could benefit more builders, so after today's maiden, where I made sure that the design works, I decided to publish them.
Plans:
Build process is almost exactly the same as
build of FT Spitfire
.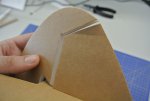 Painting
Moving to field
The painting job is kind of messed up (yellow overspray is showing on parts of the wings), but it is noticeable only under some angles.
Next, I need to finish canopy. If you have any ideas on how to make nice Bf-109-like canopy, I would welcome them.
I hope you enjoyed this post and possibly will build the plane and enjoy it even more.