So, I have never built a plane before from scratch. So this might take a while to maiden. I am no stickler on people who use my ideas so, If you like this idea as much as I do then by all means use it to its full extent, just please give me some credit.
DISCLAIMER: THIS WILL TAKE A LONG TIME, SO BE PATIENT.
Some background: I was bored in science and so I began to draw a simple sketch, then it turned into a plan, then it got completely redesigned. This build is a make believe 30s racer.
The planes that I got ideas from.
MY Sketchup drawings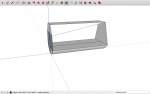 IF YOU WOULD LIKE TO HELP SUPPORT (by sending me stuff or any help at all in the comments) THIS PROJECT I WILL GIVE YOU CREDIT FOR THE BUILD AND PLANS