My Mini-Sportster Build Mods
I'm relatively new to RC airplanes compared to many here, Flying just over a year and building about as long. About a dozen or so FT designs so far both scratch and speed build kits, plus a few modified planes based on FT design and one or two started with a piece of DTFB and ending up with delta wing using no plans at all. Maintaining the 4 Horizon planes I have is fun too, in spite of my apparent learning curve disability where it comes to flying and landing properly.
All I can say is I really like the FT concepts. Looking around the internet results in plenty of very nice designs, but most have long or complicated build time in comparison. Maybe someday when I don't crash so much.
I've learned a few things about the FT planes in the process. Specifically, where they break when I'm at the controls. It's no fun fixing the damaged pod for the fourth time, or adding support after the fact. I also bang up landing gear. The rubber band sets survive mostly OK, but anything glued I'm still having issue with. I also like planes that can not only take off from the ground, but are steerable also.
So for this FT Mighty Mini Sportster build I added in modifications as I put it together. Yeah, I know I'm not doing anything special or new, but I thought I'd put it up here in one place for others to see and maybe get some use out of. Most of these can be used on other FT planes besides the Mini Sportster.
1. Paint Before Building
It is so much easier. Flat surfaces, easy masking or taping. Don't use Minwax or Camp Dry yet. Hot glue doesn't stick. Be aware poster board rounded decks distort the pattern if you use one.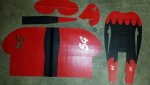 2. Steerable Tail Wheel
No, not the best solution or implementation of a not the best solution, but on a Mini it isn't so bad. The rudder has a high strength to weight and on other Mini builds has held up well. Place, trace & cut. Insert wire and glue then tape. I did bend it a few times didn't I? ;0

3. Support the Elevator
One of my first builds was an FT Simple Storch, and it was great, but the elevator warped on me because the connection between the side was so thin relative to the surfaces. So now I add a little bit of support.
4. Magnets
in the plans, the top deck is attached with a paper hinge and bamboo pin. I wanted a canopy, but it covers the pin. Easiest way was to add magnets. These happened to be out of a dead motor, but they are available online. I cut the paper, pressed in the magnet to size the hole. Then put a drop of hot glue in the hole and pressed it in with my finger and wiped off excess at same time. Do it fast and rub it off and it doesn't burn (much) at all. Tape to keep them in place.
5. Landing Gear
I admit this one may not be for all. If you fly well or don't wish to add the weight, this isn't for you. For me however, I hope it beefs it up enough to survive while I learn how to return to earth more gently. The added supports inside the fuse transfer shock to the wing. The card transfers the shock to the supports. Easy enough and likely good enough just like that, but I also added a second card on the exterior. Overkill. Maybe.
6. Power Pod
One of the more common mods. Most use it or some variation. Adding it after the fact is a pain. This is how I hid the reinforcement to make the exterior fuse look cleaner for this paint. I just didn't want the motors hanging out this time and they usually cover the cards. No pictures of it, but I also added 4 individual card squares inside the pod. The BBQ skewers are tight, and they survive my inevitable oops moments. I peeled the paper inside the nose dubler and pressed the reinforcement in to make room. Nothing is glued at this point save the card. Install the doublers normally as per the build video.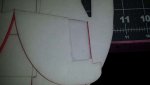 Sorry this is a long post... I'll post pictures of the plane itself later... I hope this can help the newer builders.
JD
Link to full plane pictures:
http://forum.flitetest.com/showthread.php?23712-Newest-Build-Mighty-Mini-Sportster
!
Last edited: