I've always wanted to fly an RC plane. When I was a kid, my dad and I would build models together from plastic kits to balsa and tissue rubber band flyers up to a control line 0.049 piper cub. Our builds always went incredibly slow, partially due to my father's meticulous attention to detail and his busy life between work and the Navy. Around my 11th birthday (1985) I received a Gentle Lady kit and we set to building. A year an a half later, glider still under construction, I received a Futaba RC radio for Christmas and I was certain that my first RC airplane flight was right around the corner. I spent hours sitting on the floor playing with the radio moving the servos. Unhappy ending, the Gentle Lady was never finished before I went off to college and it seemed that I'd never fly RC. Then, back in September of 2018, youtube recommended I might like a video of the FliteTest Arrow. I did like it. I liked it a lot, and the next day I was at the Dollar Tree buying foam. I've built a buncha planes now and I'm starting to get the hang of this flying thing, but I'm still not ready for this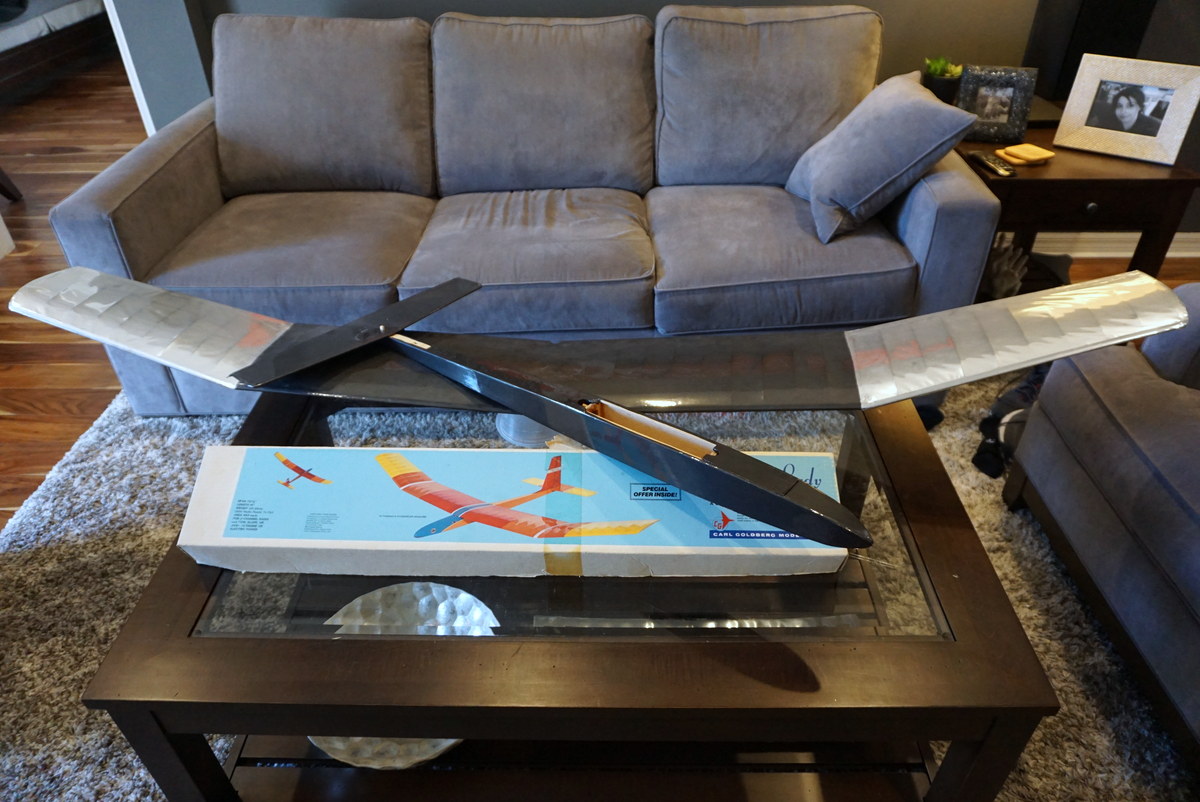 I mean that thing is made by a child from
decades old balsa wood.
I would have been scared to fly it in the 80s, I'm sure it is even less structurally sound in the new Willennium. It's still not done either, so I'm not tempted to take it out just yet. FliteTest has such a variety of plans that I'm working through them and gaining experience, edging toward flying this artifact at some point. With that motivation, I recently built the 1520mm wing from the
Ridge Runner article
and slapped it on a Tiny Trainer. I was concerned about getting the undercamber right so instead of cutting the guides from the plans and introducing my signature 1mm slop into it, I just made some 3D printed guides to form the undercamber.
The wing is giant on the TT, but it worked ok. The wing itself weighs in at just over 150g so the 1806 2300KV motor and a 6x4.5 prop with 2S just wasn't cutting it.
It tips the scales at 430g with an 800mAh 30S so it is a little heavy. I swapped the A pack motor for an F pack, which works much better but this TT has seen so much action having crashed dozens of times and spent up to a day in 6 different trees. The rudder is also too small for the size of this wing so even at 100% throws, it can sometimes be difficult to turn. Continuing this build, I'm working on a new fuselage from the Ridge Runner plans. I've modded them to increase the width of the fuselage from 20mm wide to 26mm wide to accommodate my 3S battery, and cut off the nose to hold a the motor.
Goals:
Use the Ridge Runner design to create a motor glider capable of soaring in thermals
2205 2300KV motor with either a 5x3.5 or 6x3 prop on 3S power
iNAV flight controller for altitude / vario... and Return to Home
FPV with OSD. This is what we're really after with this build. A long duration flyer that lets us cruise around sipping little power from the battery in a hyper efficient manner.
Eventually add flaps or flapperons to the wing to be able to play with the camber depending on the situation
I had to work all weekend so I've got flex time today to kick this project into high gear and keep heading down the path to that Gentle Lady. This isn't really a scratch build which starts from nothing and ends up with something new and amazing, but the Ridge Runner doesn't have much visibility here so I figured it wouldn't ruin anyone's life to have it tucked away here. I'll post all my modified plans and 3D models as well. That counts as something original right?

EDIT: Information about the current status and parts used. All my builds are "budget" builds using the cheapest parts available, most from Aliexpress.
Racerstar BR2205 2300KV motor with 5x3.5 prop $8+$1
18A T-Motor ESC with BEC $6? (purchased on eBay a while back)
2x 5g servos $3/ea
Omnibus F4 Pro V2 flight controller running iNav 2.1.0 $16
Beitian BN-180 GPS module $12
Generic AIO FPV camera and VTX $14
3S 1400mAh battery $10
Budget-busting FrSky R-XSR receiver $25 (normally I use a Flit10 receiver which is $12)
Total: $98 + DTFB and glue
Last edited: