Hey guys,
I decided to follow through with the tradition of making a first post about my striker platform...
I wrote an article, but for some reason, it's still waiting to be approved...
----------------------
( Quick notice: This post may be excessively long, as I have a large amount of information that I'd like to cover on this design.
)
I've made mention of it in a few other threads/forums, but I've avoided releasing too much technical data just in case i may decide to sell plans/kits/something like that in the future.
I've been scaling it up/down in various sizes to see if there is much of a change in performance... To my surprise, they all seem to perform equally well.
I was so pleased with the performance that I began building different sizes just for kicks.
I suppose that I should move on to the actual build photos then!
Before I get too involved, I should probably mention the most important tool for the process of building any foam model.
I designed, built, and upgraded (about three or four times) this cutter from scratch, as Eyeballing regulation airfoil designs and other shapes just doesn't cut it.
With a peak voltage of about 46v, and a maximum theoretical current capacity of 16a @ 12v.... I got a little carried away. Two pots, one to control peak voltage, and the other to control current. I made it fully adjustable in the event that I'd need to swap out the wire, or lengthen the cutting area further. It's also interesting to note that the wire is self-tensioning, to a degree, due to the way I designed the arms.
I also designed it so that I could fabricate attachments (hand bows, UFO style disc cutting rigs) and plug them in without a need for further modification.
With that out of the way, I shall continue to the ACTUAL build photos now >_>
Since I was just getting a feel for foam cutting, and the fact that this was my first actual attempt at cutting something, mind the rough edges and such.
I started out with a 2'x2' sheet of Owens foamular 150 wall foam, and ended up with two somewhat neatly cut 12" wing halves.
I decided to cut a NACA-25110 foil into the wing, because it seemed the appropriate shape for the design at the time.
Total weight for the wall foam bits of the airframe came to approx 2.2oz
I forgot to mention, The lifting body between the wings is approximately 5.5" from root to tip. I figured this would be the best way to reduce drag, yet have plenty of space for the radio equipment and such. The lifting body is a NACA-0015 foil. I also used some 1/8" Balsa to allow for a decent mounting surface for the wings.
The tail is 3mm Depron, imported from the UK.
All set to go, minus the paint scheme:
And, a peek into the internals of the little beast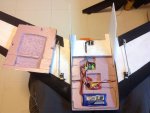 Overall, it performs quite well, flies as if it were on rails, and has zero issues with tip stalls, even at 125% servo travel. Though it is extremely loud.
You can catch the video of its maiden flight here:
--------------------------------------------------------------
After the initial success of the design, I figured... Maybe I should try to bend things a bit. I wanted to see how large I could go, while still maintaining portability.
This is also the first "upgrade" session I had to perform on my foam cutter, as it was too short to actually trim these halves out.
So, I got my hands on a 4x8 sheet of 2" foamular 150 and went off the deep end with it! Unfortunately, I couldn't find any unscored stuff, so this had to suffice.
Same drill as usual, NACA-25110 for the wing, and NACA-0015 for the lifting body. I used 3/16 lauan ply for the wing reinforcing bits around the lifting body.
Preparation and such for mounting the radio gear.
I forgot to mention, since it's 200% scale, I glued two sheets of 3mm Depron together for the tail. Yes btw, that is a 10ah lipo pack in this beast.
And, of course, the finished result:
Impressively, for being a twin motor build, the flight times are ridiculously long. It will run 30 minutes WOT.
The maiden flight lasted 45 minutes, before I became tired, and had to bring it in.
A few bits from the maiden flight can be seen here:
[video]https://youtube.com/watch?v=QjS4NemjoXw[/video]
As well as a clip from its airtime at FliteFest.
The hand launch isn't as bad as it looks, btw.
Apologies for the long post..
-----------------------------------------------
Actually, one more thing. Since I've toyed with a larger scale version, I'm currently working on two small scale versions built from "beadboard" EPS, with 10" and 14.75" wingspans. Chances are that I'll probably edit this post with updated info as those two models progress.
The 14.75" model is going to be a twin motor wing, believe it or not... just like its 5' predecessor. It will weigh in at approximately 20-22g, and be powered by two crazyflie 6x15mm coreless motors, with counter rotating 1.75" propellers.
And the smaller one, as cute as it may be, will only have space for a single 6x15mm motor. Same deal. this one does not follow the same exact scale as the others, unfortunately. The propeller takes all of the rear area between the fins this time.
It should weigh anywhere from 8-12g, but it can carry more, if necessary.
Last, but not least... Original Striker for scale, vs the 10" model.
I had to custom design and laser cut the parts for this little fellow, mainly as an excuse to see how precise my laser can actually cut objects, but also, just for the sake of precision as a whole.
With a net weigh of about 12g, and a 10" wingspan.
Powered by a spare CrazyFlie 6x15mm coreless motor I had lying around.
Best of all, the little one was featured in the FliteFest periscope stream.
Apparently the twin had a mention in the FF15 podcast as well.
----------------
Not to drag this out too much more, but I've made some progress (pre-FF15) on the Speed Striker, as well as a few other projects.
I'm going to attempt to put a large amount of stuff into a small package here. I'm aiming to run this off a 4 cell, 5ah battery.
I still haven't decided whether or not I should just run a few spars, or fiberglass the frame as well.
The real treat will be keeping the weight down to less than 2lb.
Hopefully this wasn't an excessive amount of info for a single post, but I had tons of material to cover.
I'm eager to hear what everyone thinks though.