Hello all. In this thread, I will post updates and build progress on my newest RC Plane. It will be a twin motor cargo plane with a 75" wingspan, and 50" long fuselage. Here are the current specifications:
Dimensions
75" Wingspan
12" Wing Chord
3"x20" Ailerons
3"x12" Flaps
26" Horizontal Stabilizer Span
9" Horizontal Stabilizer Chord
3"x26" Elevator
50" Long fuselage
7"x7" Square fuselage
Electronics
2 Turnigy Park 480 850Kv Brushless motors w/ 10x4.7 Propellers
2 Turnigy 40A Plush ESC
1 Turnigy 10A SBEC
1 OrangeRX 8 Channel DSMX Receiver
6 Corona Metal Geared Servos
2 Turnigy 2200mAh 40c LiPo batteries
Here are all of the drawings from my very first idea, to my current design: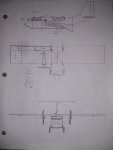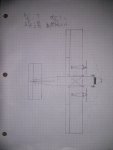 My first idea was for a 70" wing with a 13" Chord and a T-tail, but has slowly been changed to it's current design of a 75" Wing with a 12" chord and a normal tail.
Here is a video of the designs
Thanks for reading this post and be looking out for more information on this plane!