So I was at my local Hobby Shop looking for screws and well I sort of bought another plane.
The
FPV Vapor BNF without Headset (EFLU6680)
from Horizon Hobbies.
The model has been discontinued but the remaining stock is being offered at a nice discount.
The camera alone is worth you snapping one up if possible.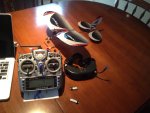 Looking forward to flying this thing all weekend