Autonomous paramotor (Opale Hybrid 5.2)

Ey guys! This is my first real post (besides the "mandatory" introduction post)

and am excited to share my new project!

So I bought a wing from Opale almost 3 years ago, planning to build a cool camera

platform but unfortunately I did not find the time to actually build it. Untill now

that is! I decided with the new year that it is time to get this project started and

share my experiences along the way.

In a nutshell the goal:


"having a paramotor fly autonomous with a camera/gimbal attached for endurance flights"

So why a paramotor? There are a few reasons that inspired me:

- "cheap" for the size and payload capability

- Really compact when in storage or during transport

- Silent (well at least in comparison to multicopters)

- Efficient, there is not a lot of power needed compared to

multicopters (planes can be more efficient but also more

expensive and a lot bulkier in storage and during transport)

So the wing I bought back then is an Opale FOX RS 2.6: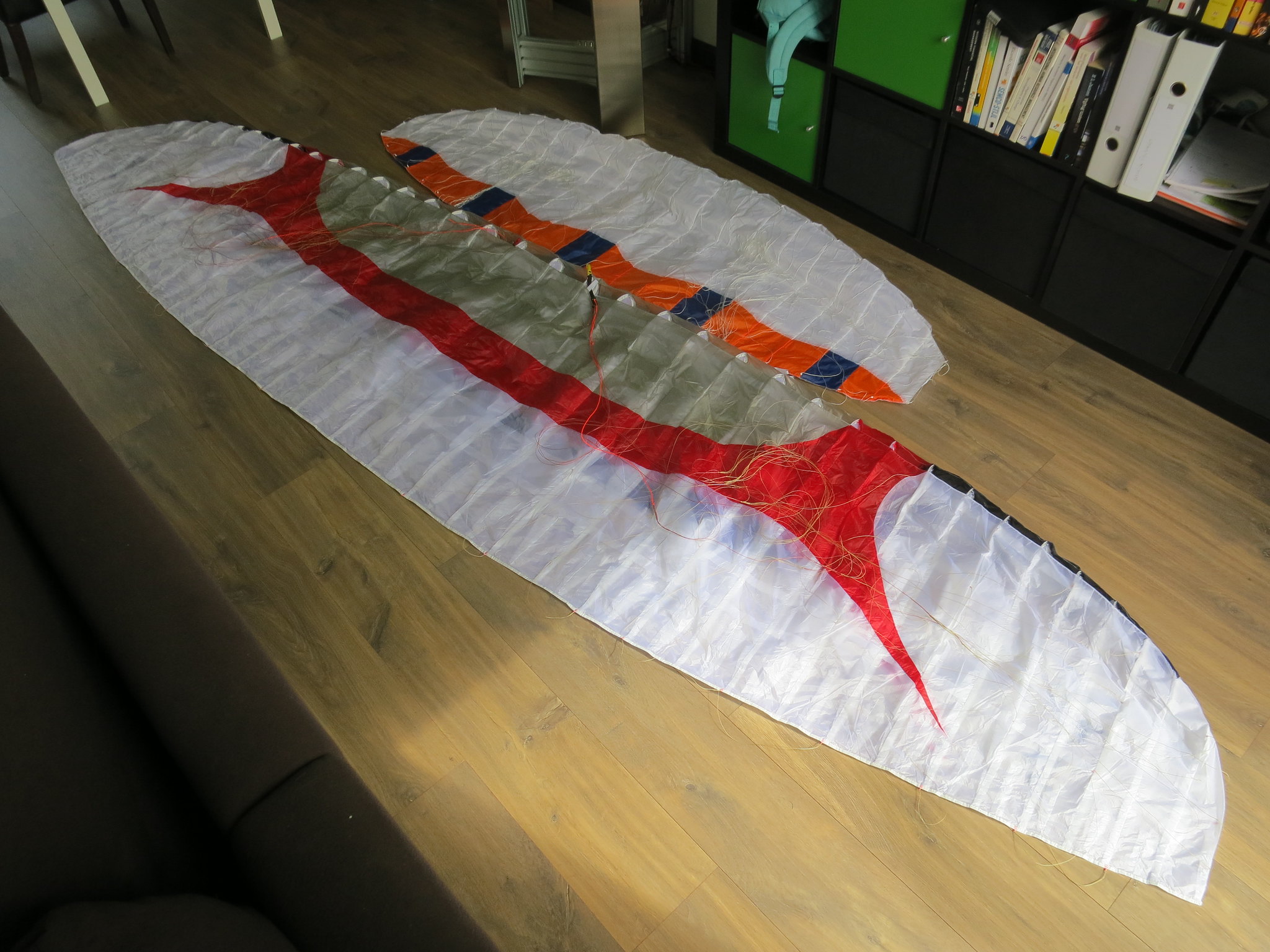 This wing can be flown with winds up to 20 knots and 7 kg payload (please note that
this is in optimal conditions and according to the manufacturer)
About a year ago I made a concept of what the propulsion unit (or trike/backpack) could
look like. Here is a quick render I made of that:
There are a lot of things that I will change to this concept, the main changes are:
- Riser mounting points will be adjustable for easy CG adjustments
- Gimbal will become retractable (this will make it less likely
that it will be damaged during landings)
- The flightcontroller will be a Pixhawk mini instead of the larger version
- The airbags will be likely replaced for a landinggear
- I will use a 2 blade prop instead of the shown 3blade. (Xoar 18x10)
I ordered a couple of items yesterday and recieved most of it today in the mail
What I plan to use:
1x - Pixhawk mini controller (with current sensor, airspeed sensor and GPS)
1x - Plush 100A ESC
1x - YEP 20A BEC
1x - Aerodrive 5065 320Kv motor
1x - Xoar 18x10 propeller
2x - 6S 10.000 mAh battery
2x - TS700MG servo (weightshift steer)
2x - HK15138 servo (brake lines)
2x - 9gram servo (speedbar)
2x - 9gram servo (big ears)
Would you guys like to see the build in detail or would sharing the results suffice?
Last edited: