Hey everyone,
Just wanted to know what you think of my new Twin FPV Warbird. It flies super nice.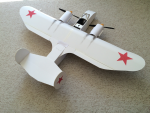 I also fitted it with a GoPro in the cockpit and am currently fitting the FPV gear. The plan is to fly around the village and go on missions to hills across the valley, perhaps landing over there or dropping parcels.
Tell me what you think!
Last edited: