Update - December 31st 2014 - 200% FT Spitfire project terminated
Hey guys I wanted to let you know that I will no longer be working on this project. I hadn't discovered the
bad hot glue
and
ruined batch of DTFB
until long after my 200 Spit was being built. Sadly this glue and foam is what was used in my build.
Upon revisiting my build a little bit ago I discovered that much of my tail feathers paper had de-laminated and part of the wing had broken loose. As this bird is much larger and heavier than anything I've flown before, and knowing that I've already had normal FT planes fall apart from the bad glue, I just don't want to chance this one. There is no way to really salvage the build without simply starting over. At this time I will not be starting over but I'm not done with large planes just yet. I do have planned a 250% nnChipmunk sometime in the future
Thanks to all that followed this thread, it was a fun challenge and I'm excited for my next monster build.
[hr][/hr]
The FT Spitfire is my favorite plane by far so when FT announced the 200% Spitfire I was super excited! It just flies so well! I've built a few Spitfires so far and even did some alternate sized versions. I've made an 80, 100, 125, and now begins the 200%.
I wanted to make a thread covering my progress and to cover any alterations I make. Hopefully this will give you some insight on what to expect if you decide to build one. I will be adding a spar to the wing to prevent an issue (
like David ran into at SEFF
)
PLANS
I broke down the plane pieces into separate PDFs and zipped them up to help reduce paper when printing.
200% Spitfire Plans
ELECTRONICS
Motor
NTM 50-50 Prop Drive
Prop 15x8 APC
ESC
100a Suppo
BEC
7a Suppo
Servo
HXT 55g/10kg
Battery 3700mah 6S
2x 3700mah 25c 3s in series
TX/RX
FrSky Taranis/X8R
BUILD LOG
May 1st 2014
Ordered all my parts and they should be here in the next few days.
Word of advice, use 11x17 paper, it makes putting the plans together a breeze.
Okay.. this thing is WAY bigger than I expected! I must be a lot shorter than Josh and David because it didn't seam this large next to them. Needless to say I'm stoked about this build.
May 3rd 2014
I will be covering the entire plane with tape for strength and then putting an layer of
self adhesive shelf liner
over the top of that to be painted. The end result should be a very smooth consistent finish.
My wing is on hold for now until my servos arrive next week, so It's on to the fuse!
Overall the build is going really smooth. It is easier to cut the pieces as there are not really any 'small' cuts.
But just when I thought the build was going to be easy, a curve ball appeared. Fortunately for me, my printer decided to print 1 sheet .5% smaller than the rest and forced me to do some measuring and adjusting.
With some small adjustments to my printed plans the fuse went together perfectly.
May 16th 2014
Electronics showed up! This motor is a BEAST with the 15x8 prop. I didn't grab a picture of my servos yet but they are equally as beefy.
100a Suppo ESC
I already had the batteries but I made a series cable for them. 2x 3700mah 3S
The build is coming along nicely. It is taking me longer than I expected due to life getting in the way but I am still slowly chipping away. I bought my aluminum spar and wood dowels this week. I am going to be designing a set of fixed landing gear that will tie into the aluminum spar. I don't think it will add
too
much weight, but we will see. I don't recall FT mentioning AUW for the 200%'ers so I'm not really sure where this thing is going to end up in terms of weight.
May 17th 2014
Servo vs 9g
Fuse went together nice.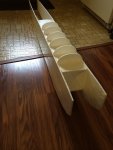 Other electronics. I was planning to power my BEC/RX with a separate battery, I figured this would be better. Anyone have any thoughts?
May 18th 2014
Getting close! Here is the fuse compared to a normal Spitfire.
I spent some time trying to figure out how to build the landing gear to be (1) light weight and (2) very strong. Here is what I've come up with so far. Each arm will mount to a 3x4 piece of ply and then I'll mount the ply to the underneath the aluminum spar. This will transfer all the weight directly to the spar and not on the wing or foam. I bent, drilled, and scratch built the whole thing to reduce the cost. Brackets are made from 3 foot long thin piece of aluminum and the arm is the same but it's a bit thicker. I cut the arm to about 8 inches and there is no play in it, it's very strong and will work well. It is also very light only weighing 30g per arm (not including the ply)!
May 22nd 2014
Spar and landing gear - 213g
I am pretty happy with the way this turned out. It is lighter than I originally predicted it would be but it's not a rigid. Once it's in the wing and smashed between the foam spars I think that will help stiffen it up a lot. Spar and arms are made from 1/8"x1/2" aluminum and the brackets were cut from a 1/16"x1/2" aluminum.
June 12th 2014
Measured and cut counter sink holes in the foam to snugly hold the wood base of the spar.
It fits very well and stiffens up the lateral movement a lot.
I added lock tight to all the hardware and also put a drop of glue on the end of each bolt. Since none of the screws will be exposed I can risk them coming loose.
Getting the aluminum spar and foam spar to fit together was a bit tricky and with a wing this size you have to go slow.
As tricky as it was to get the spar in place and secured without damaging the wing, it was nothing compared to finishing the wing fold over. The landing gear arms are not removable and I had to work around them poking out like you see here. I ended up using my table and my sons high chair as a sort of spit table so the landing gear arms could dangle in between. This gave me very little work surface and I had to be extra careful not to crease the wing.
Servos installed and control rods in place. I first used too thin of wire/rod and there was just too much flex. Even with the straw guides my first set of wire just wasn't going to last. So I pulled it out but left the straw guides, I didn't want to damage the foam pulling them off so here you can see 4 total straw guide runners.
I added a second layer of foam for the servers to rest in. This makes for a sturdy base but there is still a little flex in the foam when using the elevator.
I didn't use 200% control horns because there really isn't any reason to. Dental floss sticks work really well and I've used them on all my builds so far. The control rods are 18 inch landscape flags and are very rigid. They are not long enough to make it from the cockpit to the tail so I connected two together to extend the overall length.
Wing is done! Wow did that take a long time! Tail poster board is also done, it actually looks like a plane now.
Wife for scale!
More to come soon! I plan to finish the fuse wing area next so I can attach the wing, then all that's left is the motor.
Last edited: