Hello,
Me and my friend designed a EDF jet engine, wich we printed out using a 3D printer. After assembly and testing we came to a conclusion that it is working pretty well. So we decided to build a bigger one. Currently the jet turbine measures 12cm (4.73in) and it is 22cm (8.66in) long. The turbine is custom and also 3D printed. It is powered by a 2200KV A2212 brushless outrunner from ebay and draws about 30A at full power. The turbine spins at about 10500rpm at full power.
But for the bigger one this motor just won't do it.
We need a faster one and a powerfull one
. Can anybody recommed a powerfull motor with high KV capability?
At the bottom in the Zip file there is a video of the edf running.
Thanks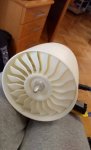 View attachment IMG_5556.zip
Last edited: