Hi, guys! For some time now I have been watching various threads of STOL aircraft building. I love the way the FT Simple Storch and FT Bushwacker fly, but I like the way real STOL planes looks. I'm a lover of scale model airplanes, even I haven't built one yet. Then, after my
biloute trainer
sadly passed into history, I was left with the desire to try out a stable but fun plane capable of making short takeoffs and landings on difficult runways. So i decided to go for something like the
Durafly Tundra
. I love how this plane looks, and i am sure this will be a really fun project.
So, these are the goals:
Make it scale looking (More or less, will add more details soon)
Adding lights (Done, but need to try it at night)
Make it swapable (Done)
Getting a STOL performance (Pending verification)
Make it as light as possible (Failed , but it flies)
Make it fly (Done)
What I have so far (Will be updating this untill i finish it, so if u are new in this thread u could see which is the current state of the building)
Maiden
Starting
After spending at least two weeks studying the manuals and photos of the Tunda, I got a simple 3-view plan and some cross sections. I I'll be using 5mm and 2mm depron for this. I started building two days ago and this is what i have so far.
This is a very wide fuselage, so it wont be a problem for placeing the electronic.
Tail is almost finished, just need to make the ruder and attach everythig.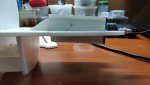 Just like the FT Bushwacker, the power pod has 2degrees right and down incidence.
The fuselaje cross sections are octagonals, so it is a big challenge to cover it. For covering i will be using 2mm depron.
Last edited: